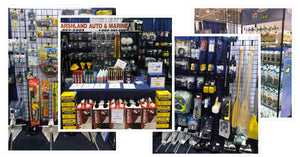 Moncton Boat Show: March 2019
While we offer an endless variety of marine products year-round, we brought a selection of interior and exterior marine accessories, trailer parts, fuel and oil accessories, boatcare products, safety products, and plenty of miscellaneous hardware. Our Atlantic Canadian marine parts specialists were there to answer your questions and were happy to meet fellow boat lovers! We had a fun weekend and hope to see you again next year! Until then, you can view our marine catalogues here, and remember that our stores are open year-round.
Thanks to Master Promotions Ltd. for making this event a success!
---